Using Digital Public History in the Classroom
In Spring 2017, the two of us—a history professor in San Antonio, Texas, and a public historian in Washington, D.C.—collaborated to bring voices from the U.S.-Mexico borderlands to a national website and, in the process, teach students about historical research.
Students in Professor Teresa Van Hoy's classes have uploaded, so far, 13 documents into the Ford's Theatre Remembering Lincoln digital collection, managed by Ford's Theatre Associate Director for Interpretive Resources David McKenzie.
Read on to learn about what we did, why it mattered to students and the institution, what we learned, and how teachers and professors can collaborate with public history institutions.
Serendipitous Origins
David: The partnership began by chance. As a native of San Antonio, I saw an article about Teresa visiting Illinois with her students to pay tribute to Lincoln and discuss his legacy with Mexico and Mexican Americans. The article mentioned a resolution passed by Mexican American gold miners in April 1865 in response to Lincoln's assassination. Published in Spanish by the Patriotic Club of Mexico in Virginia City, Nevada, this resolution fell squarely within the scope of Remembering Lincoln.
I contacted Teresa, initially just about getting that one resource. But when Teresa visited Washington to work on a documentary she squeezed a meeting with me between other interviews on Capitol Hill, we came up with a much more extensive idea.
Teresa: I saw an opportunity to bring a lot more voices into the Remembering Lincoln and to engage my students in historical research. I agreed to assign all four of my history classes to pull articles from online databases to upload into Remembering Lincoln.
Our Collaboration
David: We considered this a pilot project for both of us, figuring out how a collaboration would work as we went along–following in the footsteps of others who have done similar projects at both the K-12 and university levels.
Teresa: David joined the class via Skype at the beginning of the semester to introduce the project and talk about what the students would be doing. The three "intro" classes spent one class session pulling articles. The one "upper-division" class pulled articles and added the metadata for each item. I graded them. Then, my teaching assistants uploaded to Remembering Lincoln.
The Results
Teresa: This collaboration benefited from the students' bilingual gifts and bicultural experience. In return, it offered the students many rewards, such as:
new skills from conducting primary research
their first foray into the specialized realm of museums' digital exhibits
the cachet of contributing to a prestigious national institution, and producing "bylines" for their resumes. I can think of no other history assignment that can produce so much so fast—at no expense.
David: For us at Ford's Theatre, the collaboration with Teresa's class was extremely positive. This directly related to our original goal for primary sources to represent how a diverse swath of the United States and world responded to the Lincoln assassination. Teresa's students added Latino voices that had previously been missing—in fact, they advocated for, and I wholeheartedly agreed, that it was time to add a "Mexican American" tag to the collection. There still aren't many, but it was a start.
Teresa: More important than practical outcomes was the transformative experience for the students. They discovered that old documents can tell new truths. They learned that Lincoln did not belong only to whites and African Americans. These students—70% Latino, many undocumented—discovered that Lincoln belonged also to Latinos 150 years ago.
And he still does today because the project manager for Remembering Lincoln at Ford's Theatre needs their help to add their voices.
David: Another of our goals for Remembering Lincoln is to engage students in the actual process of historical work. This collaboration made that happen.
Teresa: For me personally, the biggest gain was an instant change in the dynamics of "required" introductory courses. On day 1, history profs often face stony stares and unspoken resentment from business and science majors forced to take a history course. Scholarships depend on GPA, so my course can doom their dreams. I found that if I substitute "what this course contributes to your CV" for the standard "syllabus overview" of the first day, students perk up and lean in, ready to work. First-year college students—many at St. Mary's are first-generation—can hotlink "their" contributions into their CVs. This allows them to showcase their digital literacy across disciplines early in their college careers. The course objectives become the goals of the students themselves as they seek to refine work that represents their skills to potential employers and to professionals.
David: In our pilot, the students submitted metadata on Word documents but the descriptions and other fields were inconsistent. We realized that having some sort of form for the students to fill out would help the process. The form should be customized for the class and exist separately from any other submission mechanism. This allows the professor to grade the assignments.
Teresa: Digital exhibit collaborations are quantifiable, so they became suitable for assessment and other program accreditation measures. Course exercises that lend themselves to "bean-counting" without resorting to objective tests also win the support of department chairs and humanities deans.
David: Because Remembering Lincoln is meant as a finished product, rather than a specifically crowdsourced project, our audiences have made clear that they expect high quality, vetted information. This means that the institution should vet submissions before they are posted to the site—something I'm doing retrospectively now.
Teresa: The professor also gains immediately the attention of top administrators. Because Ford's Theatre emblazoned our university's logo on our students' submissions, the email thread to secure the digital file went straight to the top and elicited kudos. Soon, the communications folks retweeted the students' tweets and the alumni magazine staff came to learn more about the initiative.
Additionally, Museum curators and digital project supervisors make wonderful new colleagues for professors, both in the classroom and in the profession. Beyond teaching partnerships, we have begun to co-present on conference panels and tap into each other's networks.
Steps for a Collaboration
Learning from the pilot, we came up with a process that we would follow in the future:
Skype the presentation to class.
Set up custom Google Form or other online form.
Students fill out online form.
Professor grades student submissions.
Institution vets student submissions in Google Form, logs changes.
Professor/students upload to website.
Lessons we learned
Teresa: I learned that becoming more engaged in the metadata would be rewarding. I had dismissed the data-entry as mere labeling and delegated it to a teaching assistant, but now I appreciate its possibilities.
David: Metadata can be daunting, especially for the uninitiated—there is a reason that professional archivists and collections managers undergo years of training. We're creating a metadata guide for classrooms specifically. Because most contributions for Remembering Lincoln were from institutions, our current metadata guide was done for professional archivists and collections managers.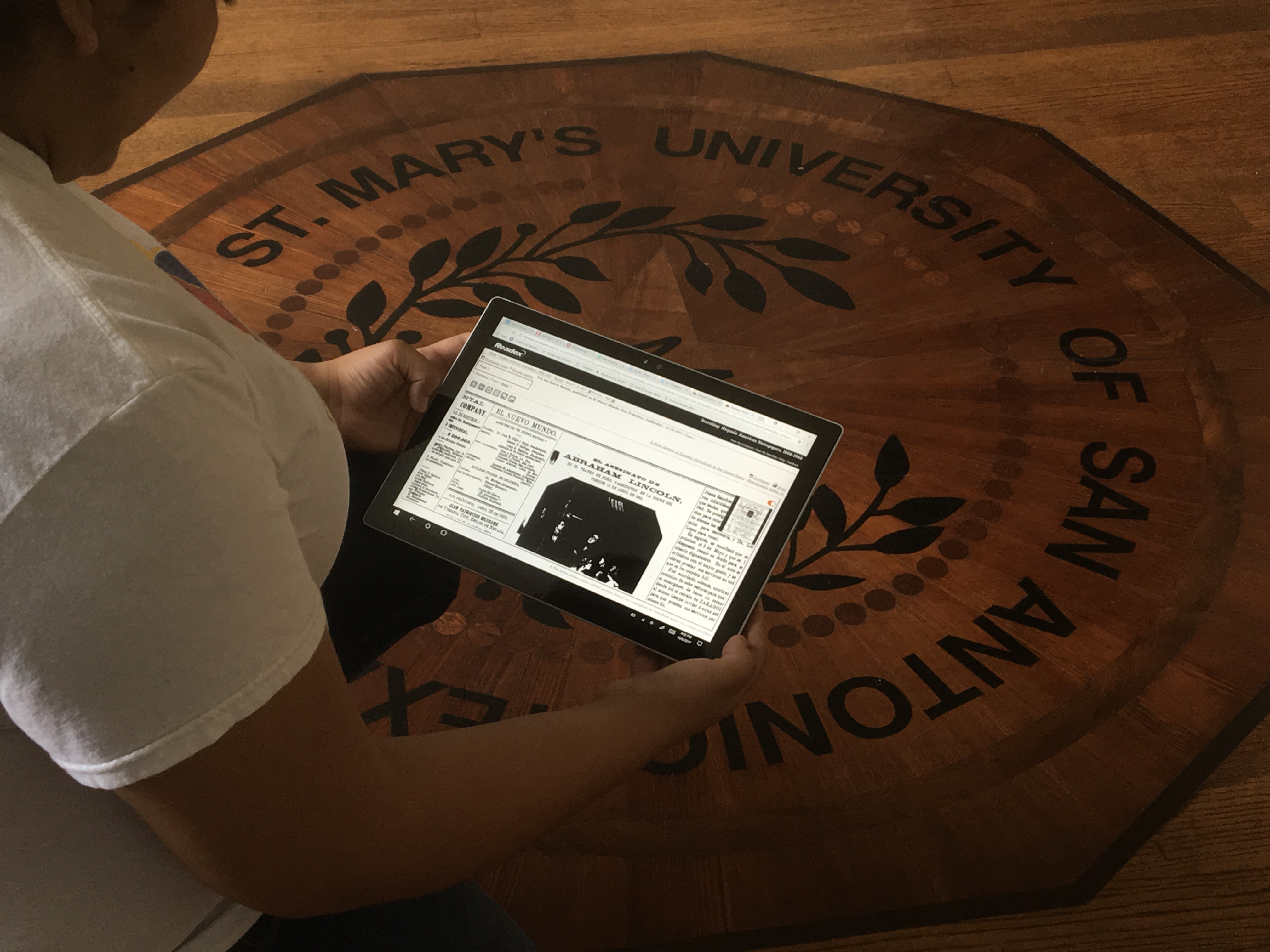 Teresa: I am looking forward to piloting "item description" as a mini-exercise in scholarly historical research and writing.
David: Another lesson learned from the pilot is that students—being students and not yet professionals—need quite a bit of guidance. One should not expect that a first-year student, when confronted with a particular name, would recognize it instantly as that of a prominent general. The institution and the professor need to provide that scaffolding.
Teresa: The Remembering Lincoln project can "bookend" the semester. I would like to open the semester with the research session, then support students during the semester as they craft a thoughtful "item description," then have them upload right before spring break when they are too weary to absorb new content.
On the last day of the course, students can check Remembering Lincoln, find their contributions and embed the hotlink into their CVs.
What's the Biggest Takeaway?
David: I would encourage any institution who is looking to augment a primary source collection to engage with a college or university classroom. It takes some work and effort on your part. But both what you gain in terms of adding resources and in terms of your educational mission makes all the effort worth it.
Teresa: Beyond the tangible benefits is something intangible: Students see their work differently when they realize that they have helped Ford's Theatre expand our understanding of Abraham Lincoln in a new way, one that few Lincoln institutions have managed to do. They see themselves differently, and the world differently. When young students learn for the first time about Lincoln's assassination or the Holocaust (we also contributed to the U.S. Holocaust Memorial Museum's History Unfolded) or other tough truths, something powerful moves.
How You Can Participate
Are you a K-12 teacher or college professor interested in doing a collaboration with Ford's Theatre on Remembering Lincoln? Contact David at dmckenzie@fords.org to learn more and set something up!
David McKenzie is Associate Director for Interpretive Resources at Ford's Theatre, and was the project manager for Remembering Lincoln. He also is a History Ph.D. candidate at George Mason University, studying 19th-century U.S. and Latin American history, as well as digital history. He previously worked at the Jewish Historical Society of Greater Washington, The Design Minds, Inc., and at the Alamo. Follow him on Twitter @dpmckenzie.
Teresa Van Hoy is Professor of History at St. Mary's University and was director of the Public History program. Her current book project, Cinco de Mayo and Civil War in the Borderlands, analyzes Mexican Americans' defense of Mexico in the mid-nineteenth century. Follow her on Twitter @TeresaVanHoy or email queries and proposals to tvanhoy@stmarytx.edu.
Latest Posts From Ford's Theatre